To order ACT conversation cards, please fill out the form at the bottom of this page.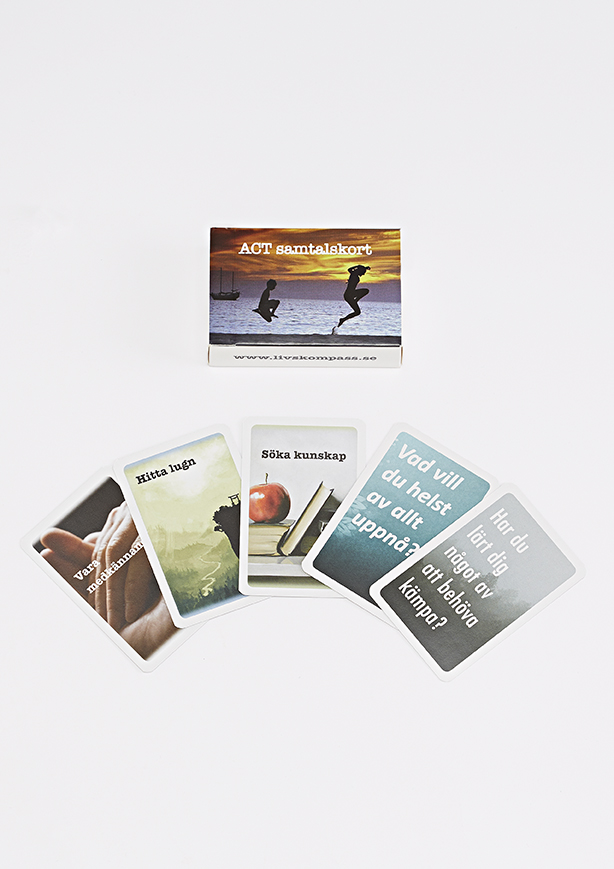 ACT conversation cards are a therapeutic tool for working with values in line with Acceptence and Commitment Therapy. These conversation cards create, evolve and shape surprisingly meaningful perspectives on life and suit youth and adults.
The cards can be used, for example by laying out 8-10 cards and explore what cards the client finds tempting to look into. For instructions on their use go to:
www.actforadolescents.com
The developer of the cards, Dr. Louise Hayes has chosen to share the cards to raise money for a poor village health service in Nepal. Her hope is that if you find these cards useful, you will consider making a small values based donation to Sanjiwani Health Service. To fin out more or donate, please go to:
www.sanjiwani.net.au
On the link below you can download blank conversation cards that you can fill in yourself. If you print this document double-sided, it will become front and back when you cut the cards. Print the cards on thick paper so that the quality is ok.
9 blank cards
The deck, which contains 72 different cards, costs SEK 132.50 and includes tax, shipping within Sweden and donation of SEK 10.00 per deck to the health service in Nepal. An invoice for payment comes with the distribution of the decks. Approximate delivery time is about 1 week. For further questions about shipping or other concerns, contact livskompass@gmail.com.
Please fill out the form below to order ACT conversation cards.